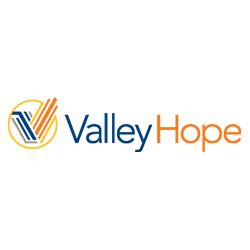 Licensed Counselor
Norton, KS
Paid Tuition Reimbursement, Paid personal time, Paid holidays, Paid vacation, 401K / Retirement plan, Vision Insurance, Dental Insurance, Health Insurance
Norton Valley Hope has an exciting opportunity for a Substance Abuse Counselor / Licensed Counselor to join our dedicated and passionate team on either a Full-Time, Part-Time, or PRN basis.
For over 50 years, Valley Hope has specialized in providing addiction treatment and recovery services to those in need. We meet our clients where they are with love, compassion and respect, and guide them towards a journey of Recovery. This is the Valley Hope Way!
Are you ready to join an organization where you can make an extraordinary impact, conquering addiction one patient and family at a time? If so, Valley Hope welcomes you!
JOB SUMMARY: 
Provides individual and group counseling, therapeutic intervention, and educational lectures to patients and family members.
Develops, revises, and implements treatment plans.
Performs assessments of patients' needs, motivations, and backgrounds; prepares substance abuse bio-psycho-social/assessment summaries.
Participates on a multi-disciplinary treatment team to include participating in weekly staff meetings, any staff development, and training as required.
Develops patient progress reports and establishes follow-up care for patients and their families as needed.
Provide clinical consultation to referral resources, mentors, family members, and others to help support patients in their recovery.
Maintains and demonstrates a current working knowledge of applicable counseling procedures and substance abuse treatment in accordance with company policy and State and Federal guidelines.
Collects and reviews referral information upon assignment of patients and consults with others as needed to support coordination of services.
Records treatment activities and patient observations in patient records accurately and timely;
Interacts and communicates with others (patients, co-workers, management, and vendors) in a professional and tactful manner including treating them with respect and consideration regardless of their status or position.
EDUCATION & EXPERIENCE
Clinical Credentials, one of the following: Licensed Social Worker, Licensed Family/Marriage Counselor, Professional Counselor (MSW, LPC, LSW, MLSW, LMFW) or Licensed Drug and Alcohol Counselor (LDAC).
Bachelor's degree is preferred; with emphasis in behavioral sciences, education, or social work.
Minimum of one (1) year of behavioral healthcare clinical counseling or clinical case management work experience.
CPR certification is preferred
WORK ENVIRONMENT: The following is intended to give and overview of the work environment of the position, but is not an exhaustive list.
Residential and/or outpatient treatment facility setting; requires walking throughout the facility. Direct contact with patients.
Traditional work hours with the need to work evenings, nights, or weekends based on the need of the facility to provide patient care.
Able to work at a rapid pace for long periods of time.
Able to push, pull, pull up, bend at the knees and waist, twist body at the waist, raise and hold arms overhead, turn head-neck-shoulders as needed, grasp other items with hands, for either extended periods of time or many times throughout the workday.
Able to occasionally lift up to 50 pounds and able to assist an adult weighing 100-250 pounds.
Participate in training as we do provide ongoing training for all of our team members.
About us:
Valley Hope opened its doors in 1967 in the small town of Norton, Kansas. Today, we operate 16 treatment centers in seven states across the Midwest and have helped thousands of people find recovery from addiction to alcohol or drugs. At Valley Hope we offer a continuum of care based on individual need. But no matter what course of treatment we recommend, the goal is the same for every patient: a life filled with hope and potential.
Are you ready to join an organization where you can make an extraordinary impact conquering addiction one patient and family at a time?
Click "Apply now" to connect with our recruiter!
We are an Equal Opportunity Employer.
58546637